Raheen Woods Hotel in Athenry, Galway is the perfect family-friendly hotel with so much to offer onsite and also lots of things to see and do in the immediate area with our fantastic location at the junction of the M6 & M17/M18 Motorways in Ireland's Hidden Heartlands and right beside The Wild Atlantic Way. Raheen Woods Hotel's family rooms and inter-connecting rooms are the ideal choice for Mum, Dad and the children where comfort and space are of utmost importance. Families have complimentary use of Tranquillity Leisure with a 20-meter swimming pool for the adults and a kiddies pool for the little ones to enjoy and this can all be accessed via your room with towels and amenities available on request.
Tranquillity Pool Hours
Monday, Tuesday, Wednesday, Thursday, Friday, times are 06:30-22:00
Saturday, Sunday, times are 09:00-21:00
(please note children under 16 years of age are asked to vacate the pool at 7.30pm)
Crèche at Tranquillity
Tranquillity's Crèche is an HSE fully approved drop-in centre. A charge per child applies for this service but is complimentary if you are having a treatment in our Spa.

Opening Hours
Monday 09:00 to 13:00
Wednesday 10.00 to 13.00
Friday 10.00 to 13.00
Please note guardians must remain on the hotel premises while their children avail of this service.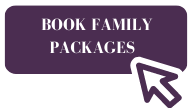 Kardio Kids Indoor Play Centre
Tranquillity Leisure is also home to Kardio Kids, our amazing indoor child-friendly play facility with slides, climbing frames, softball play zones etc. Kardio Kids has been created to provide children with the ultimate exercise and play experience. Ceramic play allows kids to let their imagination go wild. Let your child explore their creative side by designing a treasure keepsake or present. Special ceramic parties are also available. Indoor kids football and a safe and secure roped maze is a huge hit with the little ones to be enjoyed. Mum & Dad can kick back and enjoy a Cappuccino and read the daily papers while the little ones tire themselves out. Hotel residents receive a discounted entrance rate of €5.00 per child & playtime is unlimited. Children must be supervised at all times. Children's camps run during school holidays from 10am to 3pm and include activities such as swimming, arts, crafts and indoor & outdoor games.
Kardio Kids Opening Hours
Daily 10.00am to 7.00pm
Pool Hours
(for children under 16 years of age)
Monday to Friday 6.30am to 7.30pm; Saturday and Sunday 9.00am to 7.30pm
To tailor your summer holiday to suit your family please call us directly on 091 875888 now, we look forward to welcoming you to The Fields of Athenry.